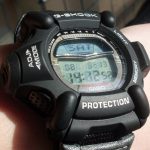 When I studied at the university I found out for the first time about existence of watches that have altimeter, compass, automatic light switching and other cool features.
I became sick with this kind of watch and desperately wanted to get one of them.
The first such watch, that became known to me, was Casio G-Shock Riseman DW-9100.
It was the beginning of 2000, DW-9100 was out of stock already and almost unavailable.
Also they had a price about 250$ that was a huge amount of money for me at that time.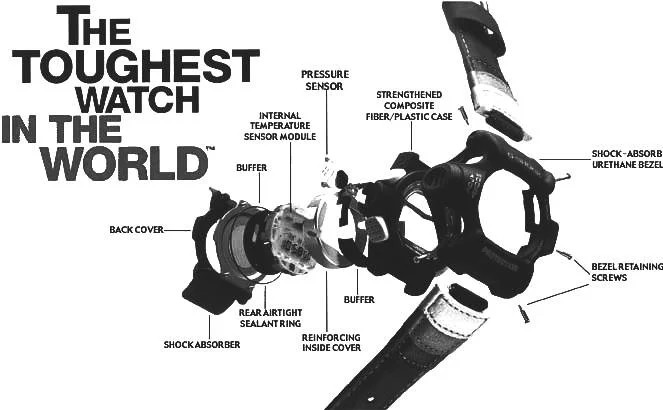 As time went by, in 2000-2003, I had been discovering the other types of multi-functional watches. Riseman (especially its look) tightly stuck in my head, but all those series of watches – Skyforce, Riseman, Wademan i.e. G-Shocks, equipped with additional sensors, had already ceased to be produced at those times and only Protrek line was available on the market(I also remember twin-sensor Forester).
I admired protected watches but they became unavailable for me for a long time.
So, eventually I bought a new Casio Protrek PRG-40 for about 120$.
It was a good watch, it has brought much joy to me, it lived rather long life and quickly died in 2008 🙂
You can see the legs of the killer on the image below. 🙂

Approximately in 2008 I began to reminisce my old passion – Riseman.
I found out that I can buy almost any old "Master of G" on Japanese Yahoo auctions using local broker.
So, I bought Riseman; pre-owned, but in excellent condition with tags for about 200$ total.
But then a disappointment came…
Unfortunately, I am not that kind of person that can love things only for a story behind them or for their look.
1) I almost immediately broke threads in two screw holes in the case so my "protected" watch lost its protection from water.
This reminds me two things
– Casio watches have a bad type of back-plate fastening, screws are held in a plastic holes and eventually their thread will broke.
Suunto core, for example, has stainless steel screw-nut embedded into plastic case.
– When you buy a 10-year old plastic watch you should expect some deterioration of gaskets' condition at least. Actually, the case may lose its quality too.
2) After the large flat screen of PRG-40 I noticed that it is hard to make out indications on Riseman. Especially baro graph.
Upper part of this bulging screen has so much glare that it is very difficult to read baro graph when outdoor. This can be seen on the images below.
So I have parted with this watch. Have given it away.
That's it. This is the end of the short and sad story about love to Riseman that had been lasting for 10 years and haven't survived the clash with reality 🙂