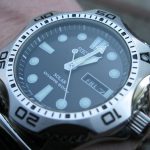 At this moment I have been using this watch for 5 years. I bought them in the fall of 2011 on Amazon for about 190$.
Before that I had been looking for an analogue quartz diver to replace my Seiko SKX779K "Black Monster".
Black Monster is a beautiful watch, I love the way it looks, but after a year and half of usage its precision deteriorated dramatically.
Also it hasn't the ability of hand-winding so sometimes I waked up to see them stopped.
So I looked for a quartz stainless steel true diver.
I wanted a watch, which would looks as close to Black Monster as possible, but there were few quartz divers on the market and also I had a tight budget.
Eventually I decided to buy SNE107 as a compromise.
Watch arrived to Russia rather quickly and intact, but I noticed that it had no "first click position" of the crank so I couldn't feel when I was in position for date/week day changing.
I have immediately shown them to well-known watch-repair shop in Moscow but they couldn't tell me what's wrong with my watch let alone to repair them.
I was slightly disappointed because SKX779 has a sharp first click.
Ok, I've ignored this problem.
Next, I noticed that watch hands are not aligned well.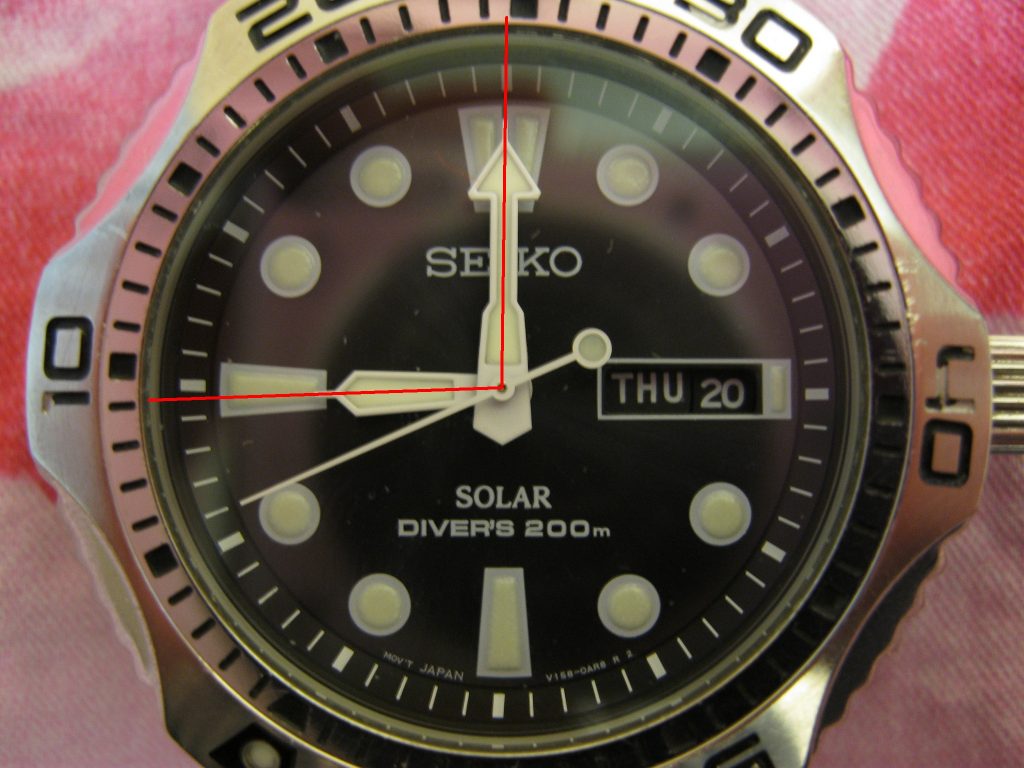 It bothered me for some time but I didn't want to open this watch or go to the service for such a minor issue so after some time I managed to ignore this problem too…
Next, I noticed a strange alignment of the inner round and outer square hour marks.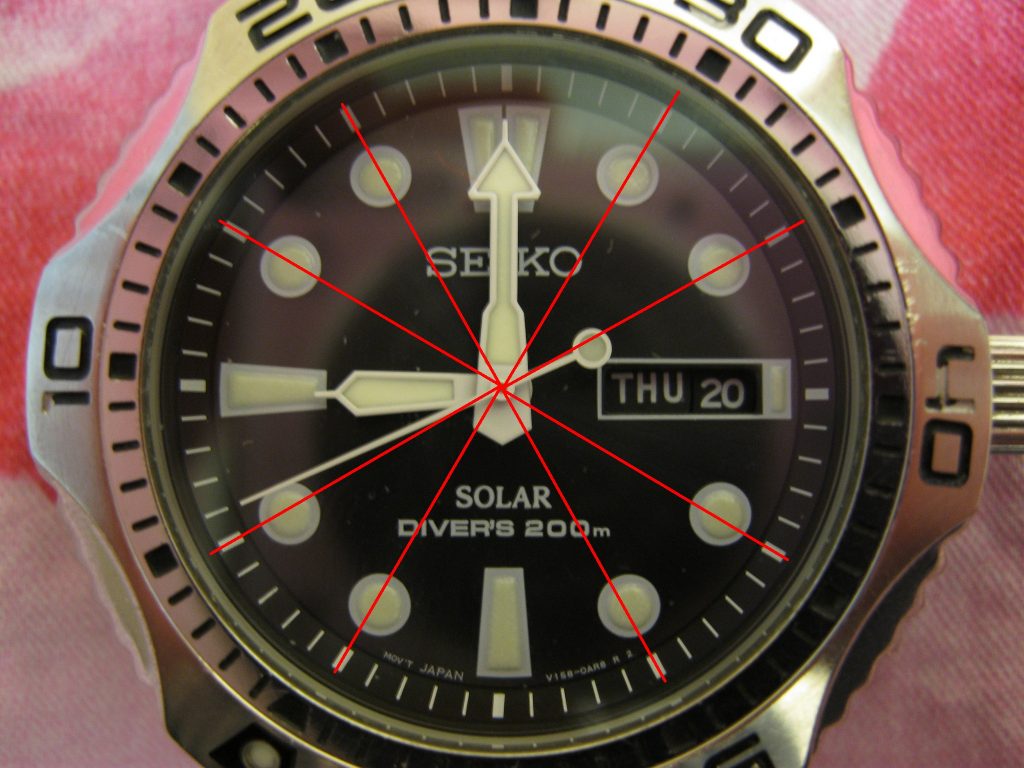 As you can see at the picture, large hour marks not always lie on the radius symmetrically.
It was strange and irritating for the first time, but later I came up with explanation that this could be some kind of "reverse optical illusion" like here 🙂
I don't mention here obvious huge misalignment of date and week day indicators… What can I say? I don't see it!!!
Last two and almost unavoidable problems which, as I understand, make this watch rather unpopular
– narrow bracelet which prevents this watch to be considered as a "brutal diver"
– not round bezel which makes this watch looks weird and elliptic, especially with original narrow bracelet
Fortunately I had bracelet from SKX779 and it fits SNE107 so I could avoid the first problem. After replacement there is a visible gap between bracelet and case but it doesn't bother me.
For more than five years of owning I had a significant problem with this watch only once. Somehow I missed the moment when the battery had run out. And, as I understand, I missed it all too much.
Suddenly I noticed that the watch is indicating (absolutely) wrong time and its second hand moves somewhat strange.
I know, there should be an "energy depletion forewarning" function in this module (v158), but it works somewhat strange.
For example, I've seen this function active in a Citizen EP6000-07H, where second hand moves by 2-second intervals when battery is low.
Second hand of SNE107 moves by 2-second intervals too, but it makes a long pause in the middle of the movement. So I hardly call it "two-second interval movement". It's rather 2-second jumps with a cheating jolt in the middle. It is not a clear 2-second jump, but something like usual movement with stumbling every 2 seconds.
Here is the video showing how Seiko "end of battery life" works:
Anyway, after they had been recharged the problem was gone. It was more than a year ago.
Now watch looks as good as 5 years ago and only have lost some paint form bezel's digits (you can see it on the first two images).
I have never seen a fog inside it or any signs of humidity on the inner surface of the glass.
They have precision about 3 seconds per month.
I also have posted some photos here under sirAlex nickname.