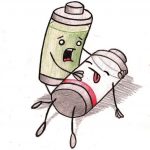 A few days ago I pulled my Acer C720 out of the nightstand and noticed that it has a strange shape…
It's keyboard was bulged toward the screen so the laptop can't be closed completely.
Battery was swollen.
After I have removed the battery everything seems to work well except the wifi. Wifi couldn't connect to anywhere and somehow I understood that the problem is incorrect date in RTC. RTC really had some fake date in the far future. It seems that there is no separate CMOS battery in this laptop. And I was needed to find the way to fix it.