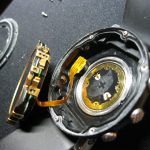 This is the first bunch of images of disassembling process. All 146 high-res images (3648×2736 px) can be downloaded in one archive (355MB).
On this images you can see one of the serious advantages of the Suunto Core – metallized screw holes. Such holes is a huge improvement over Casio watches which caseback is screwed into plastic holes and so screw-thread could be easily broken. That happened to me many times, especially I was sad because of my old G-Shock Riseman, which screw-thread I broke right after the purchase.
Also you can see, that the watch has three main o-rings.
The first (actually it is not o-shaped) is white ring under watch-glass or top cover.
The second is between main case and the battery hatch.
The third small ring is sealing universal baro/depth sensor.