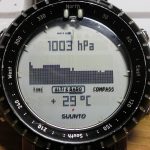 A few years ago I used to own Suunto Core Light Black watch. It was bought in 2008 so I believe it was from the early installments which had some bugs related to power consumption.
I do not interested in hiking very much or in some other outdoor activities, but I like (or, at least, liked) multifunctional watches.
This watch is actually great. They has, at least had for that moment, the maximal number of provided measurements among other watches of the same class, because it is an ABC watch + depthmeter.
Suunto Core also has an unbelievable feature – it is officially allowed to press their buttons underwater.
Actually, there are no other watches on the market, except dive computers and some very expensive jewels that allow underwater operation using buttons.
So there is a little confusing situation with water protection of this watch. On the one hand they has a depthmeter, underwater usable buttons (there were rumors that Core's buttons are equal to those of Suunto Stinger dive computer). But on the other hand official water resistance rating of this watch is only 3ATM (30M), which for most other manufactures means – water splash resistant.
Mentioned above rumors said, that such WR rating was set to separate different product lines and actual rating of Core is 10ATM (100M).
Anyway, the maximal value that can be shown by their depthmeter is about 12 meters which is too serious depth for WR30M.
This watch has a number of other features that formally raise them above similar watches like Casio ProTrek (Pathfinder) or so.
Core has a loooooong logbook for pressure readings, more frequent readings, thermal compensation of the pressure sensor, graphical display with contrast correction and so on..
But…
This watch had very large appetite for battery (one CR2032 for 6 months) and they often died before they realize that starving. Generally, this watch indicated they dying battery by switching off during morning alarm. So, I have never seen the "battery is empty" sing on their display.
Once this watch died in the morning at the beginning of the alarm sound which caused serious problems for me.
Since that time I prefer solar powered Casio ProTrek. They are simpler but more reliable and need less maintenance.
And as I get older I even more prefer analogue watches that shows only time and date 🙂
It also seems strange to me, that the matrix part of the Core's display, which, I suppose, intended to draw graphs, has pixels with different heights O_o.
Before I got rid of this watch I'd done some tests and had taken a look inside of them.
In my tests I checked their pressure sensor's thermal compensation and sensitivity of the depth-meter.
It all will be described in the future posts.
And some pictures of the Cores's face: