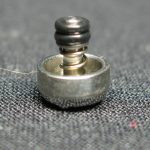 The last bunch of images – disassembly of famous Core's buttons. It seems that nothing special with them except double o-rings.
All 146 high-res images (3648×2736 px) can be downloaded in one archive (355MB).
All these pictures were posted on Watchuseek forums, but since that days many things have changed. Last thing that I mentioned a few years ago that Watchuseek had began to require authentication before one can access attachment images. So I don't know either these images accessible now or not.